Fake news about GTA 6 release date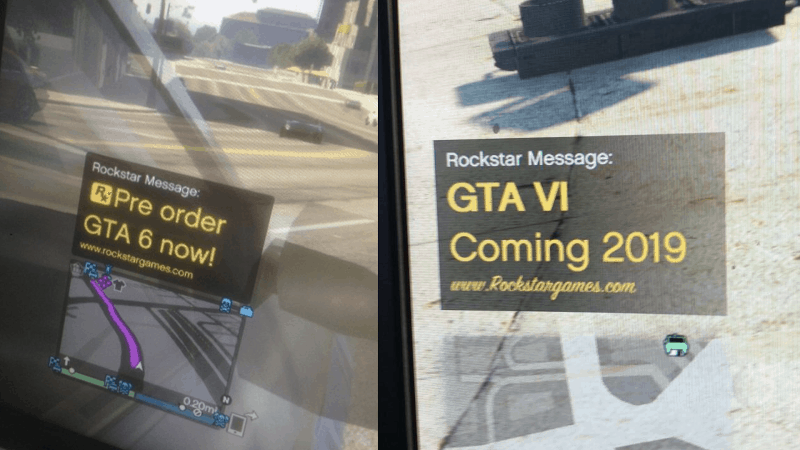 Fake news about GTA 6 release date
It turns out that the message appeared online because of hacked mods.
Players of GTA 5 online version have shared news about a notification that the Grand Theft Auto VI I set to be launched in 2019. The company in charge of creating the famous game – Rockstar Games – has swiftly reacted to the rumors, claiming that these talks about GTA 6 do not come from a legitimate and trustable source.
The message caused quite stir on Reddit and GTA game internet forum, because in the notification Rockstar was mentioned name and the launch of the much-awaited GTA 6 was confirmed to be in 2019. The Rockstar support team received an enormous number of inquiries immediately after the message came out. The company quickly issued an official response stating that the announcement was definitely false.
Rather disapointingly, the company did not elaborate further and did not disclose how such an incident may have occurred, but GTA players have shared their thoughts on Reddit saying that it may have been done using mods and the notification system used by Rockstar Social Club. They think it was the case because this kind of notifications about Grand Theft Auto 6 were mostly seen on platforms that are known to use a lot of mods regularly, specifically, PC, PS3 and Xbox 360.
In fact, there is every reason to believe that is that it would be extremely unlikely for Rockstart to give information about the upcoming version of its most successful game right now. If the company indeed wanted to do that, it would release well-thought-out announcements regarding the GTA 6.
Finally, the time when the supposedly true news about the launch of the Grand Theft Auto VI appeared was is not ideal given that Rockstar is getting ready to release Red Dead Redemption 2 in the end of October. We already know that the game will appear in PS4 and Xbox One. And then one of the developers has told us that the game will also be released for PC. All in all, it looks like the eager fans who are waiting for the GTA 6 shouldn't have too many expectations yet because there is no certain information about the game at the moment.
This is a hoax made with the use of mods, and not an official message or statement from Rockstar Games. *OV
You will freak out, when you will hear this rumors about Grand Theft Auto
Grand Theft Auto 6 is a hugely popular game across the globe. This is why it is only natural that many dedicated players in the world are eagerly waiting for news about Grand Theft Auto 6. And we are happy to say that we know quite a few rumors regarding the Grand Theft Auto 6 Game. And we are here to bring them to you.
---