Sad news for oldtimer fans: GTA 6 will NOT be set in the 80s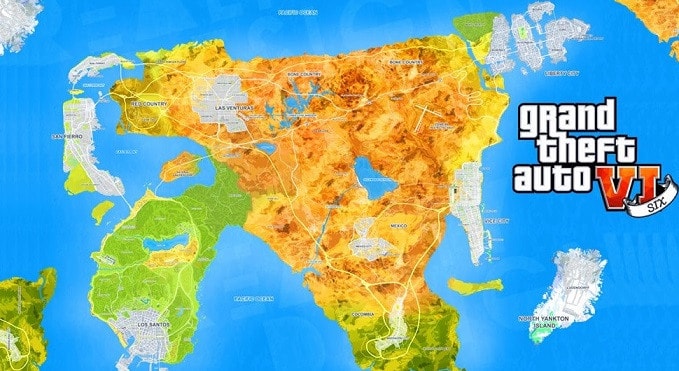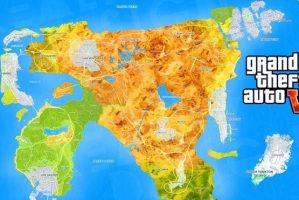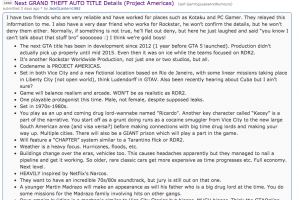 Sad news for oldtimer fans: GTA 6 will NOT be set in the 80s
A quite new GTA 6 leak appeared with plenty of information regarding the yet to be made public title. One weighty figure in the games' industry has spoken up and said straightforwardly it was fake, though.
A well known news editor from Kotaku, Jason Schreier, talking about that particular GTA said: "A good rule of thumb is that if a video game leak is a giant list of incredible-sounding bullet points, it's fake."
Now, that's a discouraging assessment. The leak shared with the public a number of details including:
Codename: PROJECT AMERICAS
Setting – Vice City and a one more imaginary city inspired by Rio de Janeiro
A single playable protagonist – male, not female
Time setting – the 1970s/80s
Storyline and character details
Weather being highly important
Buildings and cars differ depending on the era – possibly the map will change too depending on the era
Next generation consoles only
One more Rockstar title (Bully 2) to be launched before GTA 6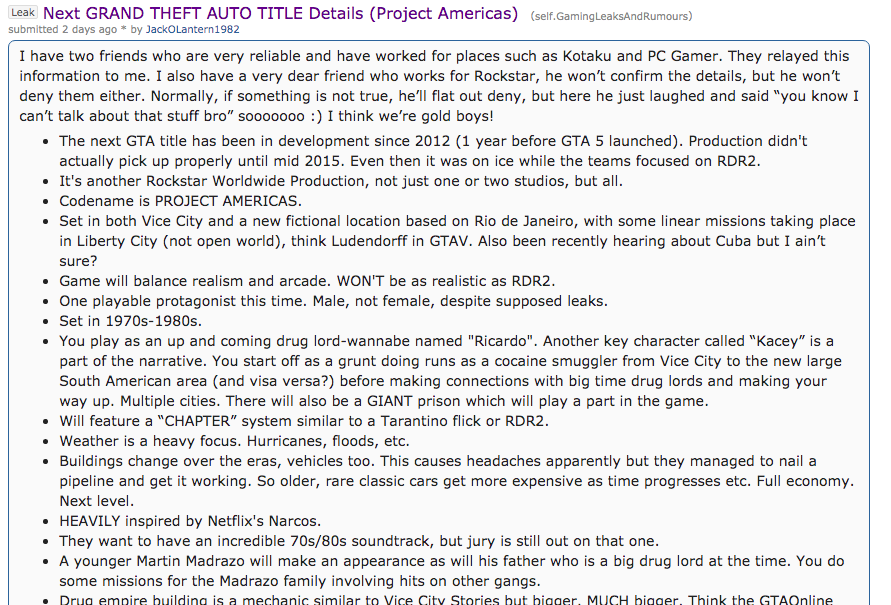 Is it or isn't it fake?
We still don't know if the leak is true or not, but Schreier is totally spot on when he says that the leak a giant list of incredible sounding bullet points. On the other hand, if the leak is genuine, it has told us most of what GTA 6 will entail.
The leak's author, "JackOLantern1982" reacted to Schreier's statement that the leak was fake, by saying: "Yeah, no it isn't." there were also comments that said that a fake Linkedin profile was created by JackOlantern1982.
What's even more interesting though, is the fact that Schreier's unwavering certainty that the leak is fake. The leak's authors said: "I have two friends whom I totally trust, they have been employed in places like Kotaku and PC Gamer." This may explain why Schreier is so sure of the leak's inauthenticity, but it could be that a person from Kotaku knows something and does not share it with the public.
His conviction almost makes us believe that he knows a thing or two about the game, could be that the information comes from an inside source, this is why he can claim that this particular leak is not true.
Exciting time for Grand Theft Auto
If this is indeed true, it would add credibility to one more, earlier, GTA leak, which Schreier has not negated yet. According to that leak, the game would be based all over the United States of America with certain well-known GTA locations making up the cities. If this is really true, what we would have would be a totally mind-blowing Grand Theft Auto 6.
We have seen a lot of GTA leaks circulating in 2019 and it is becoming difficult to keep track of what is trustworthy and what is mere unfounded speculation.
What we can be certain of is that Grand Theft Auto 6 is on its way and the questio is a when it will come out, not if it will.
---